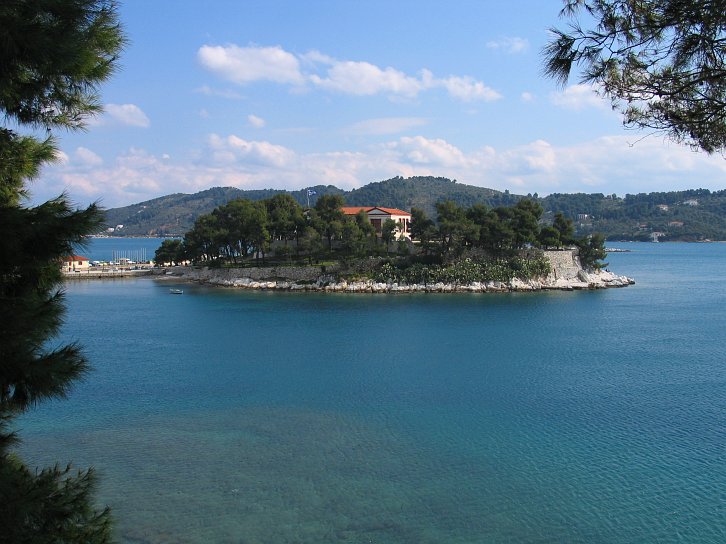 Bourtzi is a small peninsula, which separates the two harbor Skiathos in the past was a fortress. The fortress was founded by the Gizi brothers who occupied Skiathos in 1207. It was fortified with battlements and turrets and right and left of the gate there were two round towers. The height of the wall, however, it is impossible to determine from the present ruins.
Still, the fortress was no tank and a chapel of St. George, patron saint of the Venetians, probably built by the Gizi brothers. Because of that church, Bourtzi was also called "Kastelli of St. George." The fort was destroyed in 1660 when he realized the island the Venetian admiral Francesco Morosini.
In 1823 though the ruined battlements of the islanders, islanders and refugees, managed to repulse Topal Pasha. After the liberation, Bourtzi operated the first quarantine of the island, while in 1906 the center of the peninsula was built elementary school, donated by Andreas Syngrou. In the entrance of the 1925 bust of Alexandros Papadiamantis.
Nowadays, Bourtzi is really a rare recreation place, full of pine trees, always cool, with magnificent views. From the old fort saved a few remnants of the walls, as well as divided left and right of the road leading to the entrance of the old school, the positions were the church of Agios Georgios and of the fort tank.
The old primary school has been transformed by initiative of the current municipal administration, a cultural center, with elegant and functional meeting rooms and a really dreamy summer theater where every summer are given successful theatrical performances.
bourtzi_cafe
Still, in Bourtzi municipal cafe where special nights are organized, that match the style and atmosphere of the small green peninsula.